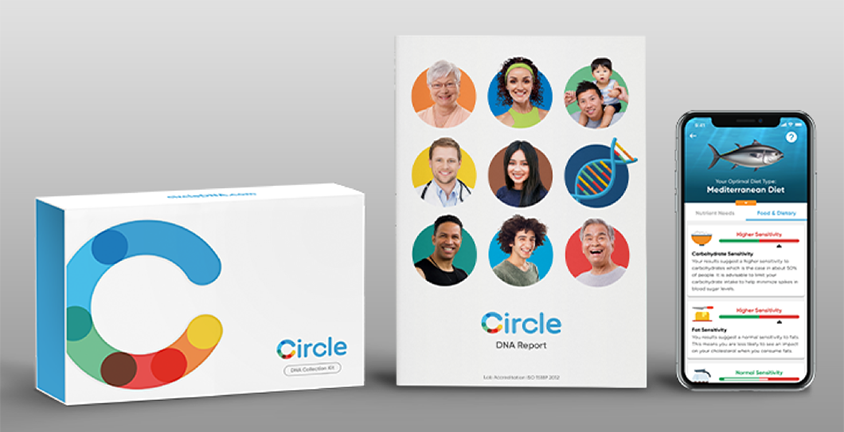 Circle's DNA tests offer a convenient at-home solution to help you understand your genetic makeup and how it affects your nutrient needs, dietary sensitivities and drug response. With a simple DNA sample collected using a cheek swab, Circle's test analyses 13 DNA markers to recommend the best way you can tailor your diet and lifestyle to improve your overall health.
Your DNA test provides insight on:
Nutrient Needs
Find your optimal nutrient needs including folic acid, vitamin B12, vitamin C, vitamin D, omega-3 and antioxidants.
Food and Dietary Sensitivities
See which food types you are sensitive to, covering carbohydrates, fat, caffeine, alcohol, salt, and taste.
Cardiovascular Medication
Find out the optimal cardiovascular medication and dosage that is most suitable for you.
An End-to-End Personal DNA Experience
Personal DNA Report (30+ Pages)
Full DNA report that covers a breakdown of your nutrient needs, food & dietary sensitivities, as well as personalised medication.
Mobile App for Anytime Access
Track your DNA report progress and conveniently access your full DNA test results anywhere, anytime.
30-Minute Health Coaches* Consultation
Health coaches trained in genetics are available for a free 30-minute consultation to review your results.
* The team of Health coaches is composed of members with different expertise, including: Accredited Practicing Dietitian, Certified Personal Trainer and Registered Associate Nutritionist.
Your Personal DNA Journey
Terms and Conditions
1.

Each customer can enjoy the offer once only.

2.

This offer is only available with the purchase of our WeCare Critical Illness Protection Plan 1 ("WeCare CI1") with premiums of at least HK$100 (paid monthly), or HK$1,200 (paid annually).

3.

The Circle is not exchangeable for cash, credit or any other value in part or in whole or its equivalent.

4.

The company reserves the right to charge an administration fee of up to HK$850 if at any point during the first two years premiums are reduced to below HK$100 per month / HK$1,200 per annum, or the policy is terminated.

5.

The company reserves the right to amend the terms and conditions of this Promotion or discontinue this promotion at any time without prior notice.

6.

Customers must redeem their DNA kit within 6 months of purchasing an eligible plan.

7.

Customers will receive their DNA kit redemption code via SMS after the 21-day cooling off period has passed.

8.

The DNA test is supplied by Prenetics. Blue Insurance Limited assumes no liability for the DNA test kit or any part of the service provided by Prenetics.
tg1
en_US
/online
/en